This Seams Interesting: OLYMPIC SPECIAL VOL. 1 BETTY ROBINSON & WYOMIA TYUS
Hello and welcome, this is This Seams Interesting. It's a monthly column looking at weird, interesting, and overlooked people and events throughout history. January's topic is…
OLYMPICS SPECIAL VOL. 1 BETTY ROBINSON AND WYOMIA TYUS: The 100M Special
Ah! The Olympics, the apex of athletics, the gold standard of the gold standard of the gold standard. Every 4 years the very best in the wide, wild, wicked world of sports compete for the gold medal, some of those athletes live on forever like Carl Lewis, Flo Jo, Wilma Rudolf, Jim Thorpe, Mary Lou Retton, the list goes on but there are several others that get lost in the storied and complicated history halls of the Olympics. This edition of TSI will focus on the Women's 100M Sprint and 4 X 100M Relay. The forgotten stars featured in the first Olympic special are Betty Robinson and Wyomia Tyus.
BETTY ROBINSON: 1928 – Amsterdam, 1936 – Berlin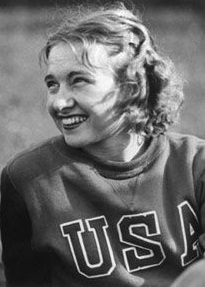 Betty's career in track and field was brief but explosive. August 23, 1911 Elizabeth Robinson was born to Harry and Elizabeth Robinson. The Robinsons resided in Riverdale, Illinois. Elizabeth, or Betty as she preferred, wasn't immediately interested in sports. Betty attended school in Wayne, Illinois. She was accidently discovered by her high school biology teacher, Charles Price. Mr. Price was also the assistant track coach. Betty missed a train home. She sprinted with all she had to catch it (according to legend she actually made it). Price knew there was a track star in her. She ran the 100M and 4 x 100M Relay. According to her, "I had no idea that women even ran that. I grew up a hick." She was 15 at the time.
Her first official race was at Soldier Field in Chicago. She came in second place…to the current women's 100M record-holder, Helen Filkey. This was followed by the Olympic qualifying meet for the 1928 games. Any previous Olympics qualifier, she wouldn't have been invited. This was the first time in Olympic history where women were allowed to participate in track and field against the wishes of Pope Pious XI and Baron de Coubertin, the founder of the modern Olympics. Betty came in second and made the cut. By now, she had set a school record for the 100M and turned 16.
Betty was the only American to make it through the trial races and semifinal rounds of the 100M. Canada's Fanny Rosenfeld was heavily favored to win the gold. Canada's other sprinter, Myrtle Cook (also so-holder of the current world record time of 12.3 seconds) and Germany's Helen Schmidt made false starts in the final race. They were disqualified, leaving only 4 runners. Betty narrowly won the gold with the world record time of 12.2 seconds. Second place's Rosenfeld time was 12.3 seconds. Betty was 16 and the first women to win a gold medal in the Olympic Games. In the 4 x 100M Relay, the American Women team won silver to the Canadian team's gold. Betty is still the youngest woman to win the gold in this event.
She received a diamond watch from Wayne, Illinois, a silver cup from her high school, and a golden globe necklace from Douglas MacArthur, the president of the Olympic committee. In September of that year she lowered the 100M record to 11.0 seconds. She continued to train and compete. A year later, she started attending Northwestern University where she set more world records for 60 yards, 70 yards, and 200 yards. Betty was an excellent shooter on the rifle team.
In 1931 however things took a downturn, while flying in a biplane with her cousin piloting. They ended up crashing. Her cousin was still alive. She was discovered and declared dead at the scene but the undertaker clarified that she was alive. Betty was in a coma for a time but woke up. She needed several years of recovery. The crash left her with severe cuts, a broken left leg, crushed left arm, and a concussion. Her leg needed a silver rod and pins to keep it intact. She was inactive in sports until 1934.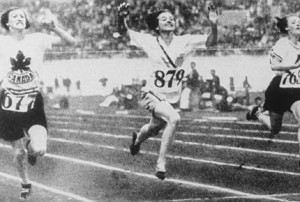 She resumed training but couldn't bend her left leg into a starting position anymore, only a standing one. The 100M was out of the question but the 4 x 100M wasn't. She was on the 1936 4 x 100M team with Harriet Bland, Annette Rogers, and Helen Stephens. Betty was third leg. They managed to win the gold medal even though Betty's past few years. The German team had the lead until a baton mishap threw them off. No one thought this would have happened. A mere 5 years ago, Betty was dead and she won the gold medal again.
Shortly afterwards, she retired from athletics. Betty never received any endorsement deals and couldn't play any professional sports. She ended up finding a living elsewhere. She married Richard Schwartz in December 1939. The couple had 2 children and 3 grandchildren. Betty was inducted in the USA Track and Field Hall of Fame in 1977, among others. She represented the Girls' Athletic Association and Women's Olympic Athletic Association throughout her life speaking to numerous communities and schools.
She died on May 21, 1999 from Alzheimer's.
WYOMIA TYUS: 1964 – Tokyo, 1968 – Mexico City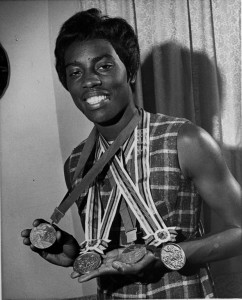 Unlike Betty, Wyomia was a natural athlete from an early age. She was born in Griffin, Georgia on August 29, 1945. Her parents, Willie Tyus, worked on a dairy farm, and, Marie Tyus, was a laundry lady. They had very different ideas on whether or not their only daughter should play sports. Marie deemed it inappropriate for a lady but her father was the opposite. As the youngest of 4, she followed her brothers into sports. They attended segregated schools throughout their early years. There wasn't much encouragement in her becoming an athlete but she kept at it.
In high school, she found basketball. After a while, she tried out for track and field. Wyomia wanted to be a high jumper but found her real specialty was the 4 x 100M and the 100M. Legendary track coach, Edward Temple, from Tennessee State University saw Wyomia at the Georgia State Championship. She was 15 but he knew she needed to be on his team. Temple invited her to his track and field camp that summer. In 1962, she went to the Amateur Athletic Union championship, won the 100M and set a new American record. The next year's championship, Wyomia came in second to Edith McGuire.
Wyomia received a scholarship to TSU in 1963. Making her the first person in her family to attend college. She won several AAU titles while there. Narrowly, she made the team for the 1964 Olympic games. For the 100M, Wyomia won the gold. For the 4 x 100M, the American team won the silver. Despite the international success, her mother still didn't like her only daughter playing sports. This was also the first time Wyomia beat Edith McGuire in the 100M. Regardless of what her mother wanted, she went to the 1968 Olympics. There was talk of a boycott from the African American athletes due to racism and threats but she along with a few others including Tommie Smith and John Carlos went. For the second time, she won the gold in 100M. This was the first time a person won the 100M in two consecutive Olympics. The next person to do this was Carl Lewis, 20 years later. Also the American team won the gold for 4 x 100M. Wyomia did not make the Black Power salute when she won her medals but she did dedicate them to John Carlos and Tommie Smith, who did.
Just like Betty, Wyomia retired after her second Olympics. She had no endorsements and had to find work elsewhere. She served as a goodwill ambassador to Africa working with training clinics and encouraging girls to participate in sports. She was invited to the Professional International Track Association in 1973. After two years as a pro she won 22 out of 36 races. Following this, she became a physical education teacher in the Los Angeles area. After getting married a second time, had 2 children. Billie Jean King, Wyomia, and several other female athletes formed the Women's Sports Foundation in the mid-70s.
She still resides in the LA area now.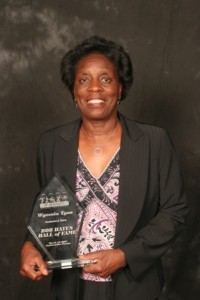 Both of these women deserve to be remembered more than they currently are. Both of them broke boundaries and made history. Betty came back from the dead. Wyomia went from a small farm in Georgia to the world's fastest woman in her prime. They are some of the greatest athletes to grace the Olympic track and the world.
Sources
http://www.olympic.org/news/betty-robinson-athletics/179776
http://www.anb.org/articles/19/19-00969.html
http://www.nytimes.com/1999/05/21/sports/betty-robinson-a-pathfinder-in-women-s-track-dies-at-87.html
http://www.teamusa.org/News/2015/April/28/Betty-Robinson-The-Gold-Medalist-Who-Came-Back-From-the-Dead
http://www.usatf.org/halloffame/TF/showBio.asp?HOFIDs=137
http://www.georgiaencyclopedia.org/articles/sports-outdoor-recreation/wyomia-tyus-b-1945
http://www.usatf.org/halloffame/TF/showBio.asp?HOFIDs=175
http://womenshistory.about.com/od/trackandfield/p/wyomia_tyus.htm
http://www.olympic.org/wyomia-tyus
http://sports.jrank.org/pages/4987/Tyus-Wyomia.html