Episode 38 – SciFi Showdown Round 1
Molly is back to help me tackle the Round One of the SciFi Showdown with two new offerings – Snowpiercer and HBO's 'The Leftovers.'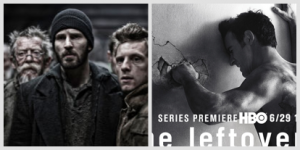 Chris Evans turns in his best performance yet in Joon-ho Bong's Adaptation of the 1982 Graphic Novel Le Transperceneige.
Jamie Bell, Tilda Swinton, Kang-ho Song, and John Hurt round out a small but powerfully talented cast, but the two stand outs to me were Octavia Spencer (who took the chance to show she can do action as well as she does any Dramatic or Comedic roles) and Ed Harris, who was just the usual brand of Ed Harris nuts but maybe moreso?
On to the next apocalypse, The Leftovers is HBO's new show based on the titular (hee) book by Tom Perrotta. The premise is simple – one perfectly normal October day 2% of the world's population disappears without a trace, but that's not the focus of the show, just the impetus for it. The show picks up three years later, giving us a glimpse of what happens to those of us who were left. It's a darkly fascinating thing to see play out, you can feel that the edges of survivors sanity are beginning to fray. Cults seem to be popping up left and right, dogs are going feral and the young kids are living like there's no tomorrow. Pay special attention to Michael Gaston as a mysterious redneck angel stranger, Scott Glenn as the Sheriff's quietly unhinged father, and Christopher Eccleston as the former minister who makes everything he touches that much worse.

What these two have in common is the utter hopelessness you feel while watching them. Seriously, medicate yourself by watching all of the new Weird Al videos after. I do NOT recommend watching them back-to-back.
Winner: Snowpiercer
While The Leftovers might have an edge when it comes to what I like (a shirtless Justin Theroux), Snowpiercer ended on a strangely hopeful note. In any event it didn't make me feel like drowning in my own tears the way Leftovers does. Bonus points to Snowpiercer for Evans' shattering confession at the end of the movie. Very solid choice.