Channel Surfing
Somewhere over the course of the last two decades, the big-wigs behind the Sci-Fi Channel seemingly all but gave up on their mission to air or produce genre programs of high quality and a substantive caliber.  Gone are the anime marathons that marked the end of summer and ushered in the new school year.  Reruns of the X-Files have been replaced by WWE smackdowns of some kind.  More science fiction and fantasy relevant movies are crowded out by two hours of tornadoes spewing sharks at bad actresses, and giant something-or-others fighting enormous whatchamacallits.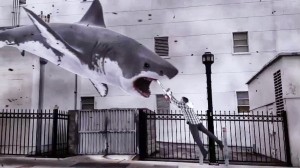 The last real bastion of greatness the channel had to offer ended a few years ago with the last season of Battlestar Galactica.  Now there was a show.  Drama, sex, action, and robots in space.  It was the envy of programs like Star Trek: Enterprise (I use the 'Star Trek' loosely there), whose producers said they couldn't produce a show like theirs on a Sci-Fi budget.  The funny thing was, BSG not only made Enterprise's "stories" look like repetitive, uninteresting drivel, but the special effects were light-years better than Rick Berman's franchise machine.
Before anyone gets all upset, I understand there were other shows at the same time as BSG and thereafter that ended as well, and they were very good science fiction.  I am merely using what was the greatest show on the channel to illustrate an era, not cheapen anything else.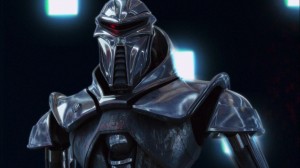 The reason I bring this up is because of late it appears the channel, which underwent a name change to SyFy a long while back, is perhaps looking to reclaim some of the genre glory it went out of its way to distance itself from not so long ago.  True, many of these programs are reality and competition shows, but at least they have a sci-fi/fantasy/horror spin.  There is Heroes of Cosplay in which you watch adult nerds play the ultimate dress up, makeup show Face Off featuring the legendary Michael Westmore as he and others grade potential movie effects geeks on their work, and an upcoming program where puppeteers strive to become part of the mecca for their craft- Jim Henson's Creature Shop.
I have seen ads for others, but I'm not entirely sold.  The SyFy Channel wooing of nerds back to the fold feels a bit like an abusive lover.  I'm not sure it's not too much too late.  Especially since there are still those WWEs and shark weather systems going on.  However, there is also an attempt to have scripted fare such as a rip-off, er, re-imagining of a British show called Being Human among others, and the most recent addition, Helix.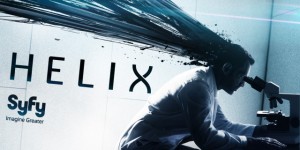 Helix sparked enough of an interest in me to record it on the DVR.  It looked pretty intriguing story wise, and the Rocketeer himself is one of the stars.  However, when I found out there were three episodes already in the bucket compared to the two I had recorded, I promptly deleted them until such time a marathon could ensue and I could decide whether I liked the show or not as a whole and not episodically.  At least SyFy is getting closer to being a viewing destination, but their strides only make me pine for the olden days.
I'm talking the 1990's when shows like Sci-Fi Buzz went around the world of nerds and reported like Entertainment Tonight about all things geeky.  Not to mention the editorials by writer Harlan Ellison, who probably influenced me more than I realize.  There was another magazine style show called SF Vortex that I watched religiously.  The list could go on and on of original and rerun shows- Mystery Science Theater 3000, Sightings, Sliders, that Trailer Park program, Stargate in all its forms, and many more.
I don't normally cite it as a source, but there's a pretty comprehensive list of previous programming on Wikipedia.  Reading through it, I couldn't help but remember when Sci-Fi existed and showed cartoons in the morning like many channels used to do.
What I'm saying, if I'm saying anything at all, is I'm willing to give SyFy another chance.  I doubt it could ever be what it was, which was never anything all that fantastic, or at least be a semblance of how I remember it.  The only way for them to do that would be to focus on genre shows and not worry about appealing to everyone and their secular mother with wrestling and stupid shit.  If they haven't noticed, pop culture is being run by nerds through production and consumption.  Embrace it.  Treat them right and give them a channel just for them.  Because when Spike TV has Star Wars marathons, BBC America has Star Trek: The Next Generation reruns, and AMC airs more superhero movies and the best genre show on television with the Walking Dead, SyFy could use a little more Sci-Fi.