Law & Ordocki Season 3 #1 (#20): Another Fucking Year Of This Shit
Wow, it's really been over a year since I last wrote about this? Jesus. Well, uh, expect a slightly more regular schedule from now on… then again, it's like it can get worse, right?
The eras of Law & Order: Special Victims Unit can be broadly delineated into three: the golden era (Seasons 1-6), in which the show approximated actual television drama; the Captain Wacky era (Seasons 7-12), wherein Cragen rescued monkeys from basketballs, secret half-brothers pop up like wack-a-moles and Stabler kills approximately 70 people; the soap opera era (Season 13-18) that repositioned everything around Olivia Benson and gives every new character a tortuous drama-filled backstory while pushing out the older, better characters such as Cragen and Munch. Now we can add a fourth era, which I tentatively call the "Hey, We're As Surprised By That Renewal As You Are" era. In a case of failing upwards, Michael Chernuchin of the now dead Chicago Justice takes over the showrunner reins and he brings with him the sense of listless apathy that pervaded Chicago Justice in spite of its good cast. Don't get me wrong, SVU in its 908th episode is still ridiculous, unrealistic, emotion-over-reason nonsense. Yet it's missing the spark of righteous indignation that invests you in the bullshit, however, leaving the viewer bemused at best and annoyed at worst.
It's not a good sign that a scene shoddily depicting Cuba (the trick to fake shooting Cuba: lighting things so it appears the Sun is sitting at the next door cafe) that ends with two guys forcing some dude into a van containing Ice-T is among the more realistic events in the episode. Forcibly repatriating a dude to the United States sets the plot into motion and those expecting "Gone Fishin'" to substantially address contemporary US/Cuban relations or more specifically Trump's immediate reversal of Obama's attempts to normalize will be disappointed. Then again, I'm not sure what you expected. SVU is long past the point of being able to articulate any real viewpoint; at best the show can mash-up current events, like "what if Brock Turner wrote that Google memo and was a mummy". Ice-T's quarry is a suspected serial rapist who fled the country right before DNA results confirmed his guilt. Benson's relieved to see this notorious guy we've never seen or heard of before so she doesn't much care that her sergeant abducted a man and brought him to the relevant jurisdiction. We're told Byron Marks (played by some guy from Nashville who looks like a stand-in for Liev Schreiber) is charming and manipulative but from his first scene the character is played as a smug braggart, which makes you wonder whether the actor was originally cast for Gotham and ended up here on accident. He apparently picks up victims at farmers' markets, rapes them and then pees on them as a show of dominance. There you are, ladies: another thing to fear. Not only are you likely to receive tiresome and inaccurate proselytizing against GMOs and vaccines by someone who believes breastfeeding a kid until they're 12 is "natural", you're gonna be raped.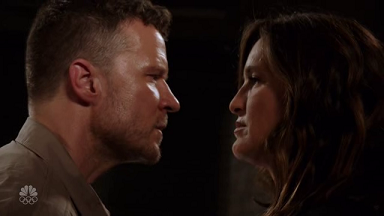 Although he's a rapist, he's really being charged for being a close talker.
Of the three victims, only one's willing to testify and coincidentally it's the recognizable actress. Amy Smart (Justified, Mirrors, Crank 1 + 2) moved on with her life to the tune of marrying a hilarious caricature of a man. He may as well be named Buford. Introduced sitting on the couch, watching televised bowling, with the remote in one hand and a beer in the other, Buford responds to his wife's rapist being caught with a literal "whoop de doo". His shirt has no sleeves and there is more sweat on him than Daniel Stern in C.H.U.D. It's really a sight to behold. His wife testifying in court doesn't just not sit well with him, he doesn't seem to understand what the legal system entails. "She's my wife, that makes it my decision" Buford responds when Detective Carisi points out technically whether an adult individual of legal competence can testify is up to that. He seems to think her participating in a court case about her violent rape will humiliate her in the eyes of his bar buddies. I have no idea where the fuck SVU is going with this character besides the shorthand of "Amy Smart's life is, if anything, worse than it was in the immediate aftermath of the rape", as the chances a beer drinkin' TV bowling enthusiast doesn't beat his wife are close to nil. He probably thinks her pointing out that Kevin Can Wait is a rerun constitutes as "back sass". It's a shame he never appears outside the initial scene, because in just the wardrobe choices he's more interesting than anything on this fucking show the last three years. It would've been a good and well-supported twist if Amy Smart was poised to testify until her husband threw a bowling ball at her because she didn't wash his favorite BBQ bib.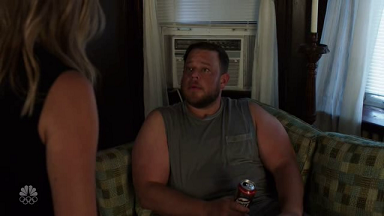 Pictured: every Trump voter's sweat congealed into a…well, let's say "sentient enough" being.
Enter: Peter Jacobsen, reprising not his SVU role as the guy who framed Donald Cragen for murder and tried to assassinate Dean Winters but as his wacky defense attorney character from Law & Order. Given later developments in the episode his presence sticks out like a sore thumb. It also does that because he's one of those "funny" attorneys. While the antics are amusing at first, at a certain point I'm left wondering if I'm about to slide into a universe where I'm watching a courtroom dramedy about an unorthodox defense attorney. NBC could do worse than greenlight Dworkin!, like that fucking Will & Grace revival. He first argues that Ice-T's actions could be considered torture, keeping a man locked in a van for hours on end. Then he moves that the Cuban government doesn't look kindly upon American cops abducting people from their streets. ADA Barba makes the point, and this is kinda the episode's point in general, that this guy is a rapist and therefore he deserves no benefit of the doubt, no rights, no privileges. He should be able to be subdued with a sock full of pennies, spirited away on a boat, placed in a human zoo and serving as entertainment to the idle rich. Because he's a RAPIST. I think the precinct would be copacetic with it being legal for them to shoot rapists on sight. There's never really a good cultural moment to approvingly depict the police state arguing that it deserves more power to curb the rights of people because they're, like, REALLY BAD, but now really isn't the time.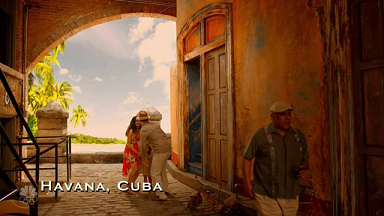 Cuba looks like every rum commercial I've ever seen.
While Byron Marks may not himself be a Cuban citizen, he is married to one and father of another, and they seem to have a vested interest in getting their husband/dad back. I like how multiple times Ice-T is pressed to admit that what he did might not be 'legal' and the most damning response he gets is skeptical looks. He may have earned the benefit of the doubt for being on the show for 37 seasons and this being the most action he's taken in the last 19 seasons. "Gone Fishin'" should be more about what he did to ensure justice prevailed instead of the stupid ass detours the episode ultimately takes. Let's cover one of those now! So Judge Johnny Sack (I KNOW) lets Marks out on his own recognizance, and like all criminals he does something really fucking stupid: he goes to Amy Smart's house to apologize. She doesn't take it well and Benson enters the situation with Smart holding Marks at gunpoint. Buford presumably went out for a six pack and it will take him well over an hour to walk to and from the bodega three blocks away. Benson went alone because season premieres need shitty stupid moments of the main character in some kind of danger or else the needle won't move. It is nice to know the character has learned next to nothing after nearly two decades. We've seen this situation so many times before that we know exactly what Benson's going to say. If you pull the trigger you can't take it back, you'll be undoing all your progress, blah blah blah. She's not going to shoot him because it's too late in the episode to do so. Were she to do it, it would be halfway through so there could be a court case about her shooting her rapist. This isn't just knowledge from being a Law & Order addict, it's simple pattern recognition.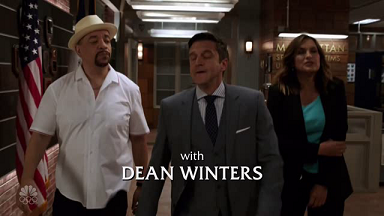 "We need to talk."
"About me illegally abducting a man from Cuba?"
"No, about your recent decision to dress like Batista from Dexter."
In what seems like a real stretch, Amy Smart is allowed to recount the story of her rape to Marks' wife in a nice conference room with the cops and lawyers in attendance. Witness tampering? I dunno. Unlike the assholes who write this show I don't pretend to be a legal expert. Suitably horrified, she and by proxy the Cuban government drops their complaint and therefore what Ice-T did was not only legal but the right fucking thing. Dworkin and Barba works out a deal that keeps Marks in prison for at least 20 years. Yay! Now Buford won't beat his wife to death with a bowling pin for "testimahfyin'" in front of "the Judge Judy that ain't on TV". She has a life of crushing submissiveness and positing "you wanna know how I got this scar?" to uninterested parties. That reminds me, previously in the show Dworkin argued that the kidnapping constituted torture because Ice-T kept Marks in a locked car in hot weather. It suggests to me a much more fruitful path: he leaves the perp in the car, guy dies of overheating. Take on the issue of dogs and babies dying in hot cars left unattended but make it about rapists because it's Special Victims Unit. Maybe it wouldn't be enough material for a full episode, but hey, it'd be a change of fucking pace.
"Gone Fishin'" feels like a missed opportunity to center an episode on Ice-T's character, who is surprisingly not named Ice-T. Despite being on the show for 18 years, his spotlight episodes are minimal. Used to be he'd handle some of the gay episodes, because his son is gay and if you didn't know that he will fucking inform you of that fact. Episodes that explored issues in the black community or ones that concerned army veterans (his backstory includes time with the Rangers) occasionally gave him a bigger role, but more and more he's been given the Richard Belzer treatment of three snarky one-liners and that's it. His last "storyline" was getting off his ass and taking the sergeant's exam, finally addressing the fact that that slot hasn't been filled for almost five years. Sure, Ice-T isn't a great actor, but he can hold his own as evidenced by Surviving the Game and Leprechaun in the Hood, and more importantly Law & Order: SVU doesn't fucking need great acting. It's a slightly elevated soap opera with salacious content. The lack of utilization of Ice-T ties into the bigger problem that SVU is an ensemble show that has been, ever since Christopher Meloni left for greener pastures (or, uh, True Blood), contorted into a Mariska Hargitay showcase. None of these characters are dimensional enough to take on that role, Olivia Benson included.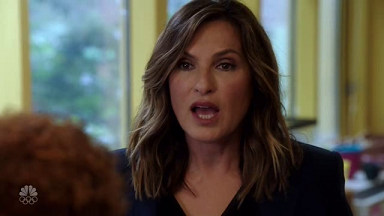 She's thinking "I really should've used that Mike Tyson guest spot as an excuse to quit the show."
If judged solely on the main plot, "Gone Fishin'" would be a thoroughly mediocre of a once-okay TV show that long outlasted its natural lifespan. Yet this premiere include what promises to be an ongoing plotline for the season, prompting me to wonder how quickly I can get back to my previous level of alcoholism. Benson's been through a lot of shit since Stabler left – she got promoted, she got abducted by the Joker (Pablo Schreiber), had to see her shitty half-brother go to jail, her beloved ex-partner we've never seen before turned out to be the father of Brock Turner, she bumbled through multiple chemistry-free relationships, and most importantly she finally achieved what all women/Benson wanted: motherhood. And because it's SVU, the baby had to be the child of a sex trafficker and a prostitute who got burned alive partly due to SVU's incompetence that the squad found at Bobby Elvis' pornography ring. It makes more sense than Benson 'getting pregnant'. You know how many pillows Mariska Hargitay would have to stuff under her shirt for filming?! ANYWAY. The spectre hanging over motherhood is the possibility of being a bad mom, or worse, the perception of being a bad mom. This happens in "Gone Fishin'" because her son, Noah, is a damn idiot. First he says he wishes his nanny was his mother. She wouldn't be a bitch and make him go to school. Then he almost gets Froggered by a cab that for no fucking reason deliberately goes against the light and Olivia has to forcefully grab him out of harm's way.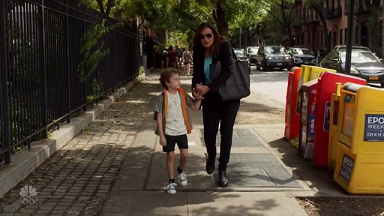 A soap opera has earned the right to use soap opera aging.
That's it, right? You WISH. Halfway through the episode, the school calls her in to discuss the huge fucking bruises Noah has. Noah told them Benson gave them to him, and she all but calls him a shitty little liar until remembering the cab incident from before. Okay, so she did bruise him, but Noah left out a little thing called 'context'. This whole subplot of the school investigating Benson as a child abuser could've been prevented if Noah added this little clause to the sentence: "she bruised me while moving me out of the way of a cab that was going to cream me". Her career is going to end because her shitty kid, who has grown approximately 6 years in between seasons, doesn't understand 'nuance'. Of course, Benson doesn't help her case by acting exactly like every abuser accused of a crime she's questioned in the last 19 years. You can almost hear "how dare you treat me like I treat everyone else!" being broadcast off the tip of her tongue. For the cliffhanger, her old boyfriend Brian Cassidy (Dean Winters!) shows up to inform her that he's un-retired, working for the DA's office, and he's working on a hot new child abuse case so hot even SVU can't touch it. One, I'm not sure why the investigator is warning the investigated ahead of time what he's doing. Two, either the DA's office didn't know they used to date, in which case they're morons, or they don't care that they used to date, in which case they're morons. There's no more a nonsensical soap opera twist they could've done short of having Chris Meloni appear at the door to tell Benson he's investigating her and also Noah is actually a Stabler kid that got spirited away because there's so goddamn many he can't keep track of them. Thank Christ he's busy doing…a SyFy show? Now THAT's abuse…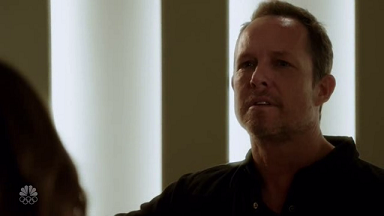 Dean Winters ages like an opened bottle of Yellowtail left behind the radiator sometime during the run of CSI: Cyber.
An underwhelming main story combined with a maddeningly repetitive – seriously, we're on like plotline #18 of "is there trouble with Noah????" – B-story makes for a shitty episode that gives me no confidence in the new joker in charge. Perhaps things will pick up when Ben Stone's son, Peter, makes his way from cancelled Chicago Justice to this show or when Brooke Shields' Inspector Javert character finally shows up. But I doubt it. Like, when has a situation ever been improved with Brooke Shields? No one who watched Suddenly Susan thought "that episode needed MORE Brooke Shields". No, they said "get that David Strickland out of there!". So just as Wish Upon told us, be careful what you wish for.
NEXT LAW & ORDOCKI: Bob Saget microchips his wife in the episode "America's Funniest Invasions of Privacy"!