Famous Redheads Throughout History Vol. 3
Throughout history there have been thousands upon thousands of people that have changed the course of humanity. Some of them had red hair, here are a few of them.
Lettice Knolleys, 1540 – 1634, British Noblewoman and Cousin of Elizabeth I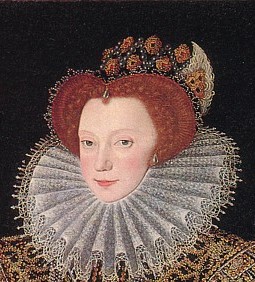 She was born to Sir Francis Knolleys and Lady Catherine Carey. Her mother was Elizabeth I's first cousin and chief Lady of the Bedchamber. However Lettice's childhood was uneventful until Mary I took over in 1553. The Knolleys were forced to go into hiding to Basel and then Frankfurt. After Mary I's death, they returned to England. By this point however Elizabeth had started her eventual 45 year reign. Apparently she was always jealous of her young cousin Lettice. This becomes a growing problem as the years roll on. At this time Lettice was just one of Elizabeth's maids of honour. Lettice was very popular and beautiful which Elizabeth resented.
In 1560, Lettice married Walter Devereax. They had 5 children. In 1572, Walter was appointed to the Lord Deputy in Ireland and served a tour. Shortly after the first, he did a second tour as Earl Marshal in Ireland. The family never travelled with him. Starting in 1565, there are records of flirtatiousness between Lettice and Robert Dudley, the Earl of Leicester. They officially started having an affair in 1575 while Walter was away. A year later, Walter died of dysentery. It's suspected that Robert poisoned him but according to medical records of the time, "all his inwarde parts were sound." The affair continued, resulting in Lettice pregnant and two secret weddings, one in Kenilworth and the other in Wanstead. Their son, Robert, was born after 4 months of marriage. They kept this a secret, the marriage and baby, from Elizabeth for over a year.
A French ambassador leaked it to the queen, who was rather irate. Lettice was banned from the court and only returned once for a private interview with the queen. Lettice's youngest, Robert, died in 1584. He was 5. Robert Dudley died three years later. Dudley made her the sole executrix of his will. He was in great debt. As a result Elizabeth forced her to sell off their property. Her other son, Robert Devereax, the new Earl of Essex, introduced her to his buddy Christopher Blout. Lettice and Chris were married in 1589.
Elizabeth banned her cousin from the courts even when her son, Robert Devereax, was in prison. Chris, Lettice, and their family were under house arrest in Essex. They tried to escape but failed. Christopher Blout and Robert Devereax were caught and executed. Lettice died on Christmas day in 1634.
German Riescro, 1854 – 1916, Chilean President from 1901 to 1906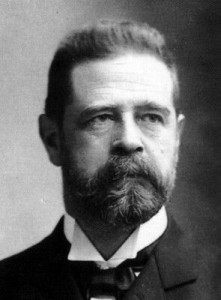 German was born to Mauricio Riescro Droguett and Carlota Errazuriz. His father was a Spanish merchant. His mother was the sister of Federico Errazuriz, Chilean President from 1871 to 1876. After graduating from the National Institute, he attended the University of Chile in 1875 he started a judicial career. He started out as an Officer of Member, then Senior Officer in Ministry of Justice and Public Instruction. He rose through the ranks and built a remarkable reputation. He retired in 1898. German was elected Senator of Talca in 1900 as the Liberal Party candidate. He was so popular that he was nominated and became the Liberal presidential candidate for the 1901 election. The Conservative party had Pedro Montt running against him. German swept the election with 184 votes, 68.91% and Pedro Montt had only 83 votes, 31.09%.
German was in office in from September 18, 1901 to September 18, 1906. His presidential career was marked with social unrest, including the Meat Riots. This was a protest where the poor from Santiago led a strike against the rising price of meat. 26 people died and many others were injured. In 1906, an earthquake ravaged Chile. Riescro stepped down and gave power over to Pedro Montt. German retired from politics and died in 1916.
Mark Twain, 1835 – 1910, Writer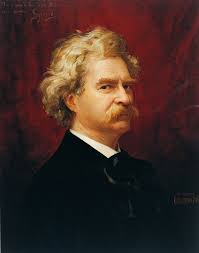 Mr. Twain was born Samuel Clemens in Florida, Missouri. Lil Sammy was the 6th of 7 children. The Clemens family moved to Hannibal, Missouri when he was 4. He spent his childhood summers on his uncle's farm hanging out with the slaves. His father passed away when he was 11 causing him to leave school and work. He became a printer's assistant.
Seven years later he moved to the East Coast. Mr. Clemens worked for various newspapers in New York City and Philadelphia. In 1857, he moved back to Missouri to become a steamboat captain. The Civil War broke out, drying up business so he joined a volunteer Confederate troop, the Marion Rangers. He quit two weeks later. Post-war he moved to Virginia City, Nevada. He tried and failed to be a silver prospector. Again he turned to writing for newspapers. This was where the name Mark Twain was first used. He shortly after moved to San Francisco, where he became a national sensation. It was a short story titled, Jim Smiley and his Jumping Frog. He wrote a travel report on the Sandwich Islands (Hawaii) for the Sacramento Union. This was so popular he did a national lecture tour. Around this time he travelled to Europe and the Holy Land.
On this trip he met Charles Langdon.  Chuck showed Mr. Twain a photo of his sister Olivia Langdon. A few years later in 1870, Olivia and Mr. Twain were married. They had 4 children, Langdon, Susy, Jean, and Clara. They moved to Hartford, Connecticut. They stayed for 17 years. This is where his career exploded however this was marred by poor investments. His son, Langdon, died in 1872. He filed for bankruptcy in 1891. During this time he wrote Huckleberry Finn, the first book published by his own publishing house.
To make money again he did a worldwide lecture tour. He and his wife traveled the world for the reminder of years. She died in 1904. His only child to outlive him was Clara. Mr. Twain passed away in 1910 from a heart attack. He had approximately $471,000 which is equal to $12,000,000 in today's money.
Napoleon Bonaparte, 1769 – 1821, French Emperor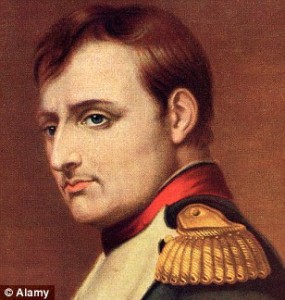 Napoleon tried and failed to conquer the world. He was also not that short among many other things.
George Bernard Shaw, 1856 – 1950, Playwright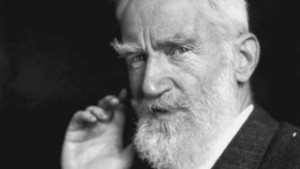 The legendary playwright came from odd beginnings. His parents were, Lucinda Elizabeth Shaw – a professional singer, and George Carr Shaw – a failed corn merchant turned civil servant. His father had a squint that Oscar Wilde's father, a prominent surgeon, tried to fix. Lucinda was trained by Vandeleur Lee. When George Bernard was about 16, his mother ran away with Vandeleur Lee to London. Bernard remained in Dublin with his father while his sister left with Lucinda. He reluctantly finished school and briefly became a clerk.
In 1876, he moved to London with his mother and sister to focus on becoming a writer. He trained vigorously to overcome his stutter via socialist meetings, soapboxes and other methods.
He with Beatrice and Sidney Webb founded the Fabian society, which played parts on establishing the Labour Party and London School of Economics in 1891. Bernard became a critic for art, music and theatre at this time using the name Corno di Bassetto.
His first play, Widower's Houses, was finished in 1891. Over the next decade he wrote 12 more plays but none were produced in London. A few were produced abroad, Arms and the Man, and Mrs. Warren's Profession. In 1898 he moved out of his mom's house and married Charlotte Payne-Townsend. Harley Granville Barker became the new manager of Court Theatre in Chelsea and produced Shaw's plays locally. The only play at this time that wasn't produced by Barker was Pygmalion. He finally made it as a writer and was making money but WW1 happened. He criticized the war and was lambasted and austrized by the public. Only one play was written in this time, Heartbreak House. In 1920s his creative spark was awakened again and his career recovered. In 1925, Bernard was awarded the Nobel Prize for Literature. His plays were produced worldwide and became an international celebrity.
He fell off a ladder in 1950 and died from the injuries.
Judy Garland, 1922 – 1969, Actress and Cultural Icon
Ms. Garland was born Frances Gumm in Grand Rapids, Minnesota. Some MGM releases state that she was born in 1923 in Murfreesboro, Tennessee but these are false. Frances was the 3rd of 3 girls. Each one had a nickname, Mary Jane aka Susy, Doronthy Virginia aka Jimmie, and Frances Ethel aka Baby. She was Baby Gumm until 1934 when she changed her name to Judy Garland. She liked the peppy sound of the name Judy. She first performed at 2 and a half singing and dancing at a Christmas pageant at her parents' theatre.
Judy made her film debut in 1929 in the film, Starlet Revue (also titled The Big Revue). That same year the sisters appeared in several MGM shorts. In 1935, she signed with MGM after her eldest sister married. She attended the Metro school with Ava Gardner, Elizabeth Taylor, and Lana Turner. She was regarded as ugly compared to fellow MGM actresses. This had a lasting effect on her for the rest of her life. She appeared in a few movies and in 1938 did The Wizard of Oz. She did not suddenly become a super star. Under her contract at MGM, she was required to do a variety of things besides act. She made public appearances, recorded albums, toured theatres, visited soldiers, among other things. She was already very popular and during the late 1930s received the most fan mail at MGM.
In 1950 she left MGM due to being overworked and failing health. She continued making movies and touring but her health was a constant problem. In 1963, Ms. Garland received two Oscar nominations. Over the years she was married several times. In 1969 the IRS took her home and was forced to work despite her health. She was found in her latest husband's bathroom. Over the course of a mere 47 years, she became a beloved cultural icon. There will never be another Judy Garland.
William the Bastard, 1028 – 1087, Norman King of England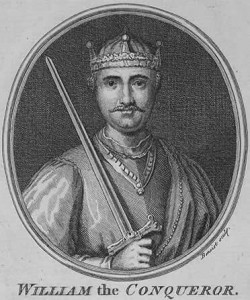 William the Bastard better known as William the Conquer was the son of Robert I of Normandy and Herleve or Arlette, a tanner's daughter. Since he wasn't of noble birth, he was not in the line of succession. His father died when he was 7 so his uncle took over raising him. He became a soldier and was knighted at 15. He rose through the ranks and became known as a brilliant tactician and powerful warrior. William played a large in unifying Normandy.
Even though he came from less than stellar beginnings he was beloved by the Normans. He married Mathilda of Flanders in 1051. That same year his cousin, Edward the Confessor, the King of England, had promised William the throne when he died. However in 1064 Harold II took the English throne and not William. Not only had Edward broken his promise but William had the support of the Pope and Emperor Henry IV. William prepped for an English invasion for the next 7 months. Harold assumed that this was another petty Norman invasion and didn't take it seriously. At the Battle of Senlac Hill, Harold II was struck with an arrow then sliced by a cavalry soldier. 2 of Harold's brothers died in the battle also. William's Norman army crushed the dispirited English.
William was crowned king of England in 1066, the first Norman king. Later in life, King Philip of France called him fat. William was so hurt that he started a liquor and wine diet to lose weight. It didn't work. He conquered a lot during his 21 year reign. His abdomen apparently exploded during his funeral and people ran away to escape the smell.
Maureen O'Hara, 1922 – Now, "Queen of Technicolor"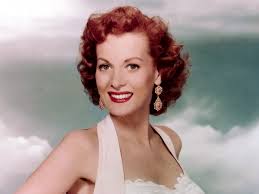 Hollywood legend Maureen O'Hara wasn't always the magnetic screen goddess. She was born in Dublin, Ireland as Maureen FitzSimons. She was the 2nd of 6 children. Her mother was an actress and opera singer and father, a businessman. Maureen had the performance bug very early. She attended the Abbey Theatre School and graduated in 1937.
Shortly after she moved to London and relatively quickly got cast in a film. However it was never produced but Charles Laughton noticed her. He suggested the name change which she did. Her first film was the Hitchcock film, Jamaica Inn. It received mediocre reviews but she was a highlight.
Charles Laughton continued helping her out and encouraged her to sign with RKO Studios. During this time she starred in Miracle on 34th Street. In the 1950s she co-starred with John Wayne in a variety of films. She had steady work until 1971 when she took a hiatus that lasted 20 years. She was married 3 times. Her last husband, Charles F. Blair Jr., was the first pilot to make a solo flight across the Arctic Ocean and North Pole. Maureen is still living in the United States.
Otto the 2nd, 955 – 983, Holy Roman Emperor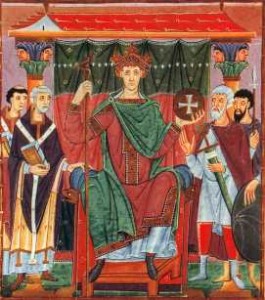 Otto the Red is the son of Otto the Great, 912 – 973. When Otto the Red was 6, he was made joint ruler. 6 years later he was made co-emperor of the Holy Roman Empire by Pope John XIII. Otto the Red helped his father on military campaigns. He married Theophanu, niece of the Eastern Roman Emperor John I Tzimisces. Otto the Great died in 973 giving him the throne. His brief rein was packed with military and political intrigue but cut short. His son Otto III took over as a 3 year old.
Florence Nightingale, 1820 – 1910, Nurse and Social Reformer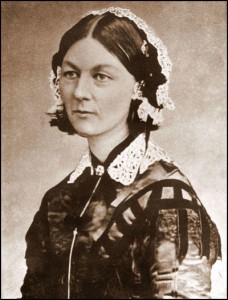 Though mostly known for nursing she was also a statistician. William and Frances Nightingale named their daughters after the city where they were born. Florence was born in Florence, Italy and her sister, Parthenope, was born in Naples. The Nightingales chose the ancient Greek name for it. William educated his daughters himself. Florence was particularly brilliant in academics. He wanted them to be married off but Florence felt God calling her to do divine work and help people.
Nursing was viewed in a completely different light. It was not a science or well-established practice. Hospitals were equally as bad. Florence against her parents' wishes went into Nursing. After years of training she became the superintendent of the Establishment for Gentlewomen.
Only a year later she answered a newspaper ad to treat English soldiers in the Crimean War. The situation was dire to say the least. She led the nurses and quickly established them as very proficient. They were angels of mercy. Florence received the nickname, Lady with the Lamp. Florence recorded everything her nurses did to save their patients. This includes statistical data on the survival rates pre and post, her arrival. In 1859, Notes on Nursing: What it is and What it is Not, was released. This gave her the credentials to create a new wave of health reform with what we consider to be commonsense today. She wrote over 200 books in her lifetime. She was sickly in her later years and passed away in her sleep at 90.