Episode 18 – Dracula!
"Vlad Tepes! Vlad the Impaler! Dracula!" As Lady Jayne Wetherby says on more than one occasion, and that lady is nothing if not on-the-nose. Molly and I meet in the Skype-o-sphere to talk about NBC's Vampire Drama, mostly about Jonathan Rhys Meyers and his INSANE American accent, how great Renfield is, Van Helsing's terrifying silver hammer and Lady Jayne's boobs. You see those A LOT. You have to appreciate a show that doesn't hold back in it's level of insanity (Edwardian Female Mud Wrestling, anyone?) or it's brazen manipulation of the original text.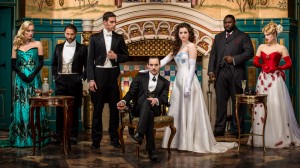 For those that have seen the show, how does it compare to you against other versions? Christopher Lee's Dracula is a classic, or maybe you prefer the Rock Star Dracula of Buffy? For me Gary Oldman is pretty impossible to beat, but one thing I think we can all agree on….Oliver Jackson-Cohen is a much better Harker than Keanu Reeves.