Count Gardockula's Boogeymonth of Bollocks #4: The Rage: Carrie 2
It came to my attention (read: an errant thought while hungover, staring at the ceiling) that this horror column has yet to cover a terrible sequel to a beloved classic. Carrie is one of the very best Stephen King adaptations, though that's not saying much considering the likes of Dreamcatcher, Thinner, Secret Window, Under the Dome…really, listing the subpar King adaptations into other media would be a paragraph unto itself. Brian De Palma succeeded in marrying camp and horror, creating a heightened universe where Carrie's mother is a plausible character and the prom scene is sufficiently apocalyptic. The boring, CGI filled Carrie from 2013 is only worthwhile if your main complaint with the original was Carrie didn't view enough YouTube videos. It's a revelation compared to The Rage: Carrie 2, an ill-conceived sequel made 23 years after the original. I have no real evidence to back this up, but I wouldn't be surprised if this began as a totally unconnected script that became a Carrie sequel when someone realized "well, people are just going to say we ripped off Carrie…might as well turn this into a squeakuel". It uses the exact same beats as the original, just making sure the soundtrack plays "Backstabbing Liar" while a girl is helping the main character under false pretenses so all the morons fucking get it. Describing how totally wrong and inept this piece of shit is daunting, like juggling dry ice. But I shall soldier on, proselytizing the good word that Katt Shea is an untalented hack whom I glad got shit out of the industry over a decade ago. Before diving in, I want to note during the viewing and reviewing of Carrie 2: Ragin' It, I drank 50 Shades of Grey Red Satin wine. Apologies if things get a little…erotic.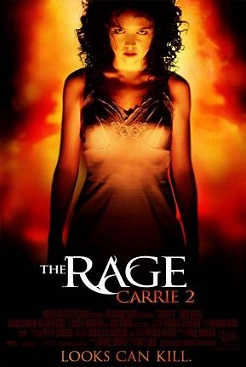 What does that even mean in this context?
The Rage: Carrie 2 (which is a stupid title but less stupid than the previous working titles, Carrie 2: Say You're Sorry and The Curse) first sees our heroine's mother being led to the looney bin for the crime of muttering things about the Devil (Governor Scott Walker does not make an appearance) and painting things a horizontal stripe of red in the comfort of her own home. Fucking fascist police state… Rachel then grows up in a foster home environment, with "parents" so one dimensional and caricatured white trash I had to check Rob Zombie didn't take a pass at the script. (The writer's one other film credit is for the movie Hackers, so at least he knows how to make things so 90s you remember who Sistah Souljah is.) She's best friends with Mena Suvari, as evidenced by their matching blood sister tattoos and one scene of shared character development. The ever rough looking Mena Suvari makes a good decision in jumping off the roof of the school to her death and thus ending her production obligations. It occurs in the first 15 minutes and doesn't really matter, because the "popular kids" were going to hate Rachel anyway. It's a Carrie movie, so it was going to happen, which highlights the main problem with this sequel. The Rage bears the same structure as its predecessor, with a few elements moderately tweaked at best. Why not do a remake? It's clear the makers didn't give a shit about the sanctity of the original, considering they made a sequel latching onto its forebear like a remora sucking up the gristle the shark can't be arsed to consume. Not long after the suicide, a pig truck running over a fake puppet version of her dog (who's really the best character in this shit) allows Rachel to meet cute with Jason London. Flip a coin and hope it somehow kills you when debating who's the worse actor of Jason and Jeremy. It's an important meet cute, because it contradicts Rachel telling the impossibly named Mark Bing she doesn't want to go with him because she's a dyke. In 1999, we know what lesbians are, but they're more significant as a slur for women who don't immediately put out than actual people. (Rachel and Mena Suvari have a Heavenly Creatures thing going on, but they're not gay.)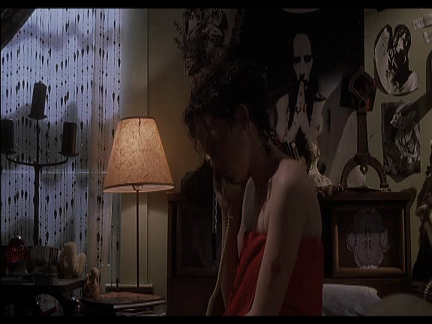 See, she's wearing a red towel and red is the color of blood so
The reason Mena Suvari offed herself is she gave her virginity to Home Improvement's Zachery Ty Bryan, the son who wasn't JTT or the youngest who became a Goth creep who made a short film about killing his parents. She thought it meant something whereas it was a notch for him. I get it. We've all had sexual fantasies involving the cast of Home Improvement. Doesn't mean you should kill yourself after the one night stand. So many women and a couple men would be dead thanks to the sexual stylings of the guy who played Wilson! The football player dude culture is based on a real 90s thing called the Spurs Posse, in which high school football guys fucked girls, some of them qualifying as statutory rape, and quantifying the lays via a points system. (Yes, I may be aware of this because of a Law & Order episode based on the subject. Shut up.) Rachel has photographic evidence at her FotoMat job that Brad from Home Improvement appeared in a photograph with Mena Suvari, so the six or so whitest students deem her a threat. Obviously a statutory rape charge made with a dead girl as the victim is an airtight case, especially if the defendant's dad is an attorney himself. This movie has a far more optimistic view of the criminal justice system than I do. But how can I not be cynical when fucking director Katt Shea portrays the Deputy D.A.?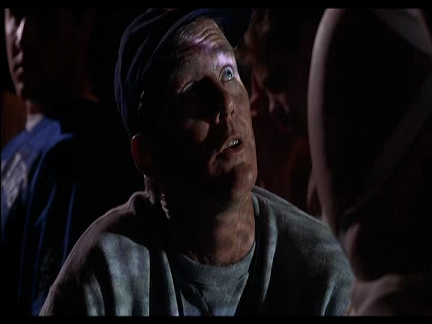 Before Jerry Sandusky hit it big, he was examining high schoolers' assholes.
I get it, you know. I get that a sequel to Carrie needs to try to "top" the locker room tampon scene. But whereas that movie paralleled telekinetic powers with the onset of puberty, this is just muddled horseshit. Theorists can and have made the argument De Palma's Carrie is a feminist film; The Rage is feminist only in that it shows women can make shitty horror too. So a scene in which the jocks go to Rachel's house, prank phone call her in Donald Duck's voice (I'm not fucking kidding), cut her power, knock on the doors constantly to disorient her, all while she's just out of the shower…and oh yeah, they throw a brick through her window occurs. Katt Shea decides to film some of it in black and white and from Otis the Town Drunk angles for no apparent fucking reason. Going down the rabbit hole of "why?" will eventually end in "why did anyone decide to make this?", but the flourishes Shea includes are arbitrary and moronic. If I took a drink every time gratuitous slow motion cropped up I'd have been 50 sheets to the wind. This bullying scene is so over the line that it's nonsensical it becomes rather moot as Rachel gets closer to Jason London. Sure, you know, bunch of 40 year olds terrorize you, cut the power, possibility of rape is merely a "the other shoe drops" situation, but at least one of the boys shares your appreciation of the band Garbage. The pop cultural references are terrible in a sense, that they're shorthand for characters' personalities. For example, Mena Suvari and Rachel are intertwined because they've both got some big ass posters of Marilyn Manson. Soundtrack's a time capsule. All it needs is some Stabbing Westward and Gravity Kills.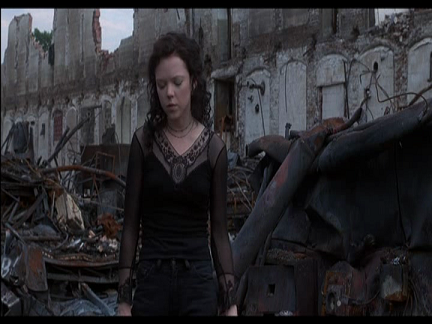 I love how fucking lazy the characterization shorthand is in the movie. "Yeah, she dresses mostly in black, dark hair, maybe a Wiccan symbol somewhere…of course she's going to snap and murder everyone!"
In the only case of such happening, Amy Irving reprises her role as Sue Snell (aka the "Final Girl" of sorts of Carrie), now a guidance counselor for Rachel's high school. She is fucking worthless in this film. Her entire role is to prod Rachel into recognizing she indeed has telekinesis, and when she doesn't buy it the prodding becomes more and more dumb. Sue's big show is taking Rachel on a field trip to her and Carrie's high school, which apparently has been unmoved rubble for over 20 years. Jesus Christ, Ground Zero had more going on in that timespan. Rachel continually refuses to believe her, even when Sue says that she consulted her mom at Arkham (FUCK YOU) and she said Rachel and Carrie shared a father. I love how Sue tries to make shit sound scientific, claiming the telekinesis is a recessive trait the dad's carrying. Oh good, it's not some hoodoo religious bullshit, it's sub-X-Men garbage. I'm glad she gets killed in the equivalent to the prom sequence as an afterthought no one cares about. You may as well have replaced Amy Irving with Ed the Sock.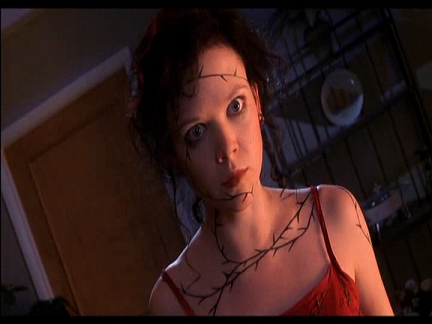 Barbed wire tats aren't badass, they just look fucking stupid.
As her relationship with Jason London heats up, Rachel becomes the target of vague retribution from a cornucopia of assholes. There's Brad from Home Improvement, the Archduke Ferdinand of this Great Asshole conflict; the ringleader Dylan Bruno as Mark Bing, who looks 40 years old and resembles Johnny Drama; Charlotte Ayanna's the sorta ex-girlfriend of Jason London and only real example of The Rage: Carrie 2 giving time to someone not racially pure; and last but certainly not least, Rachel Blanchard (Nancy from Peep Show, obviously) as Monica, the popular girl with glasses. Glasses is an important character trait. If I didn't hate everyone involved I'd feel sorry about their remit of creating a unique situation that matches up with the pig's blood bucket in Carrie. Yet Charlotte Ayanna distracting Jason London so Rachel will go to the party alone and see both the point system notebook and video of her and Jason London fucking displaying on all the screens of this ridiculous white people house is rather underwhelming. She's not ostracized or bullied like Carrie; Rachel is targeted because she knows a little bit about possible statutory rape. Mena Suvari only told her she lost her virginity, nothing about who it is or, you know, conclusive evidence of anything. I think a lot of women can relate to that situation. Fuck this bullshit about the uncertainty of puberty and the anti-sex teachings of Mrs. White resulting in a bifurcated viewpoint of female sexuality, these jocks gotta get this girl for dating a hunk and having a problem with sex crimes!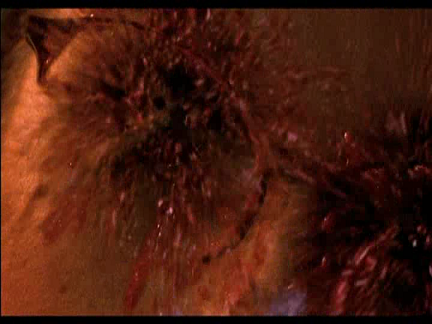 The Rage: Carrie 2 predicted the Final Destination films.
Rachel losing it and pulling a Carrie is a relief if only because it means the movie's almost over. Don't get me wrong, there are some hilarious deaths, like Nancy from Peep Show having her glasses explode into her eyes, causing her to fire a harpoon at Home Improvement's dick. But it's still a case of too little, too late, and at best it just reminds you of the prom scene in Carrie and how much better it was. That brings me to a couple things I may as well address now: The Rage flagrantly exploits footage from Carrie in order to make idiot viewers connect the two in their minds. All the iconic scenes make extended appearances. I love the IMDB trivia that Sissy Spacek was offered a cameo and turned it down. Makes me wonder what the cameo could be, since she couldn't play Carrie, what with it being decades later. Rachel realizes she was wrong, her boyfriend did love her, so she pins herself under some rubble and dies. Also, she's briefly reunited with her mom who rightly calls her a devil monster girl. She lost her virginity to a London boy, dammit, the reaction was earned. Like the original, we close out with a hallucinatory sequence where Jason London imagines his mass murderer girlfriend is at his college dorm room. She disintegrates in the worst CGI 1999 has ever seen. A Ra song plays over the credits. If you don't know who or what Ra is, you've already won.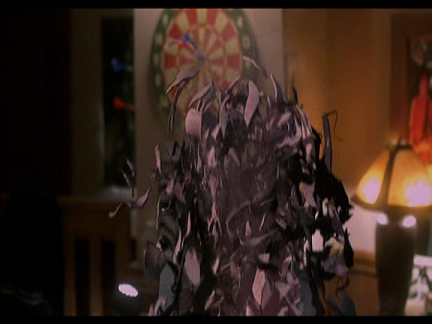 The inspiration for the design of Megatron in the Transformers movies.
The main problem with The Rage: Carrie 2, other than its stupid ass title, is everything it does Carrie does a billion times better. Scene for scene you can go "Carrie captured the nature of bullying better", "Carrie understood the travails of being a teenage girl better", "Carrie's shot composition didn't make me want to puke" and so on. If your film is considered less true to life than a fucking Brian De Palma film, you may as well hang it up. Despite running longer than the original, this sequel feels rushed and doesn't say anything about anything. Rachel's a flat Goth stereotype, a sort of Daria who just needs a Tom to wash away all her cynicism. (Man, fuck Tom.) The movie really requires you to have seen and intimately understand the original for any of it to make sense. I love that Sue Snell tells Rachel that her powers are genetic and there are people who could help her, if only because it suggests the series is in continuity with the X-Men. What I wouldn't give for Wolverine to gut Emily Bergl… Speaking of which, she's not terrible, but she's also not good. The script calls for her to listen to a lot of Manson, Shirley or Marilyn, and scowl, and bucket of scowls Emily Bergl delivers on that front. Everyone else is pretty terrible, and the film suffers from some of the worst high schooler casting I've come across in a while. The main crumbum looks like he's 45 years old. It does make the statutory rape plot point more genuine in that an 18-16 relationship is less immediately inflammatory compared to a 55-23 relationship. The casting call must've been "any age, so long as you don't have noticeable gray hair".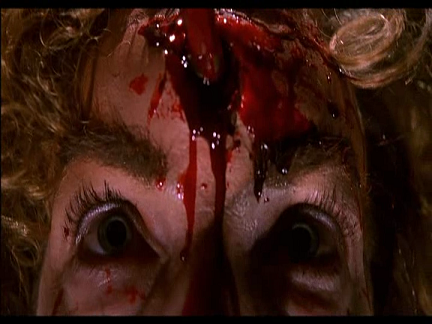 One of the Tim Taylor murders falsely attributed to Rachel Lang. Fun fact: when friends and I did cocaine, after snorting a line we'd replicate Tim Allen's "Awuoh!" Tim Allen dealt coke and then ratted on everyone he knew to receive a lighter sentence.
The Rage: Carrie 2 is an atrocious waste of time that one should only see in order to brag to friends that you saw an atrocious waste of time. "I was there when Zachery Ty Bryan got a harpoon to his dick, man!" It is sort of the Vietnam for people who have nothing better to do. If this review hasn't sickened you enough, know this: the college Jason London goes to at the end is Kings University. UUUUUUUUUGH. Maybe a character should go to De Palma Film School to learn how to make a film that isn't dogshit.