Count Gardockula's Boogeymonth of Bollocks #3: Curious George: A Halloween Boo Fest
It's important to address Halloween when doing horror columns in October. After all, without it there'd be no connotations between the month and the genre. Divorced from Halloween, October is when a bunch of fucking teams you hate advancing in the MLB playoffs and increasingly irritating weather (woo Wisconsin!). When it came to choose a product based on Halloween, I had more trouble than expected. The Halloween movies are out, because Halloween is the only good one and the sequels increasingly have less and less to do with the holiday first nationalized by noted Satanist James Garfield. Trick 'r Treat fails to meet my stipulations on account of using "Sweet Dreams (Are Made Of This)" by Marilyn Manson in the last decade. So I am sentenced to trawl the mousetrap gloryhole that is NetFlix, a service with a few great streaming choices and much more terrible ones. This is how I came across Curious George: A Halloween Boo Fest, an almost hour long special dedicated to combine a dark, pagan holiday with a monkey who could literally rip your face off. I imagine if it was any longer it'd be more shocking and upsetting than Salo. NetFlix categorizes this as entertainment for those 2-4 years old. I've never accepted age brackets, which is why I watched The Thing at age 7 and Saturday morning cartoons at 26 until Obama got rid of them. (Fucking fascist…) More importantly, NetFlix's pronouncement belies the complex, mature philosophical issues A Halloween Boo Fest addresses through the conduit of an overly exploratory monkey and his primary color wearing father figure. If anything, I would say this should be taught in college courses. Give those pinko pricks something actually educational to teach instead of A People's History of the United States, On The Social Contract and David Halberstam.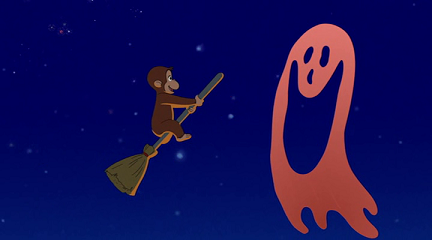 OH MY FUCKING GOD THAT'S oh wait it's a broom nevermind
I realize the Rhymes of Nerdy audience is predominantly children and men who look like Walter Matthau, so I'll try to give a concise explanation of Curious George's premise. There's a monkey named George (the property is Curious George, but he's just George, like how "Invincible Iron Man" goes by Iron Man) who lives in the country with the Man in the Yellow Hat, who never discloses his name, probably to avoid having to pay taxes. "Livin' off the grid's got its benefits, nobody tellin' me to give my monkey shots, nobody sayin' I can't have as many assault rifles as I want…" In this special, the only one I watched because I don't want NetFlix to think I'm a pedophile, Man in the Yellow Hat doesn't seem to have a job and George doesn't go to school. Then why the fuck did they move from New York City? I assumed it was the superior school district. A simple white flight explanation doesn't hold water, because the population of this little burg is diverse as fuck. I feel like when I was a boy, stumbling onto an issue of Image's TMNT. "Why's Donatello a robot? Leo doesn't have a hand? Raphael's Shredder and Mikey's dating a Savage Dragon supporting cast member? WHAT THE FUCK HAPPENED?" Anyway. George's curiosity and his love of fucking shit up create many easily solved conflicts for his 'father' and friends. Nothing too serious, though, except for the one where George is accused of a string of prostitute killings. I suspect the reason people are so cool with George's shenanigans is they know he can kill them at any time, like that episode of The Twilight Zone.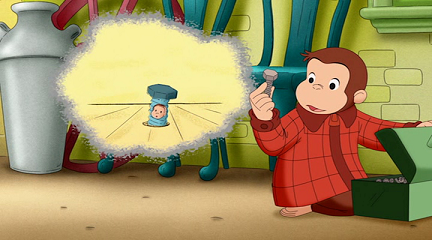 George briefly considers becoming an editorial cartoon protesting the government's abuses of the 4th Amendment. Reconsiders upon realizing none of his friends want to go as a hammer labeled "Federal Government" and a slide rule labeled "Institutional Cronyism".
For instance, Yellow Hat (Yellow King?) is raking some leaves and George just keeps jumping in the pile, scattering leaves everywhere and erasing the progress. That little motherfucker cannot help himself. To get that little red jacket wearing monkey out of the way, Yellow Hat tells him to procure a pumpkin. It's at this juncture that we learn the legend of No Noggin, the spooky character reportedly created by the staff because Universal rejected their use of the Michael Myers character. Some farmer had a scarecrow with a pumpkin for his head. One day, a deer stole the pumpkin, because the largest part of a deer's diet is "pumpkins". Double crossed and left for dead, No Noggin made sure everyone who walk past him would lose their hat. It's the creepiest of mild inconveniences, unless this town takes residence in the Mad Men universe. George and one of his little friends decide to form the junior X-Files and stake out where No Noggin is purported to haunt. Sure, the ostensible purpose is to take a photograph that would establish pumpkin size and hat size for purposes of a costume, but you'll have to remember Woodward and Bernstein's investigation into Watergate started out the same. Woodward was the monkey.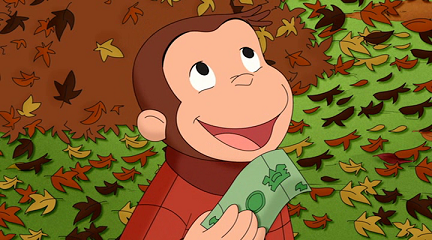 George learns how to participate in an economy.
This is a pretty complex plot, so I hope I don't get you confused. The course of the investigation reveals a bombshell of a revelation of a thing that happened: No Noggin was an inside job. The tree the specter haunts isn't by that farm, it in fact is gracing the residence of Yellow Hat and George! If the government lied about that, what else are they hiding? Now the "official story" sounds a bit shaky. "Why would a scarecrow want to kick hats?", the narrator asks. A Halloween Boo Fest teaches children to distrust authority and draw their own conclusions. It takes an independent look into the matter for George to come up the truth, a conspiracy dwarfing our understanding of the word. For decades, with the implicit support of the CIA, squirrels have been hiding nuts in a cave (anything sound familiar?) and using purloined headwear to store their weapons of mass nutrition. No Noggin was just a cover story! We are through the looking glass. So, one might expect Curious George to inform the public of the subversive squirrel nutmuniques that's plagued their community, but upon seeing an accidental No Noggin sighting and how happy it makes Halloween celebration for everyone else, he preserves the lie. Immanuel Kant would disagree with this, as he wrote in response to this cartoon: "for a lie always harms another; if not some other particular man, still it harms mankind generally, for it vitiates the source of law itself". Yet the little girl's "never repeat what you hear from a squirrel" is no less philosophical. I'm just glad he didn't have to maul any witnesses to accomplish his ends. Well, I mean, he might've; I have yet to read the Avatar published Curious George: Halloween Havoc.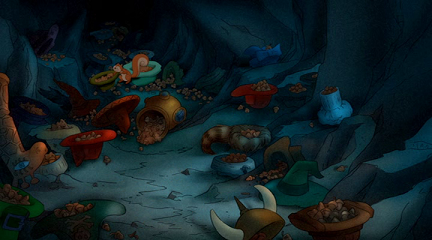 Rossi: "The squirrel keeps those hats as trophies."
Morgan: "That means there's more bodies out than than we thought."
Rossi: "I know. Why do you keep on stating aloud things that are obvious to me?"
Morgan: "We're on CBS, Rossi. We're lucky our viewers remember their own names."
While the dissembling of the conspiracy comprises the main plot, there's some other shit in here too. There's a costume contest, with the first prize being a leaf vacuum. Guess there was no recession if the city government's able to hand out leaf vacuums all over the place. Since monkeys are basically humans with tails and a disregard for not ripping people's faces off, George knows his dad could really use a leaf vacuum. He understands practical value; truly little monkeys are fiscally conservative teenagers. I would've thought the prizes he'd gravitate towards were the lifetime membership to the Banana Bunch Cooperative Bananary, the Complete Banana Splits Blu-Ray boxset or the collection of mint condition ripped off faces. The monkey shows financial restrain too when deciding on a homemade costume instead of one of those expensive sexy boogeyman or night porter costumes. I figure that's why he goes around wearing people clothes; motherfucker knows how to better manage money than me. He wins with a slapdash Man in the Yellow Hat costume, complete with terrifying head. Were I the guy, I'd think the monkey was creating a totem with which to replace me. Fortunately, George doesn't seem to have any ritual sacrificing in mind, he is but a benevolent autumn leaves aficionado. But don't get me wrong, Curious George is still an agent of destruction. A simple pulley system put into motion to lift and move a pumpkin (obviously a problem kids will deal with in the real world) leads to an avalanche of pumpkins that cause more destruction and death than the end of Man of Steel. In a sense, Curious George is a Christ-figure, capable of great compassion and great property damage. It's funny, though; of the two, it's Jesus who's ripped more people's arms off.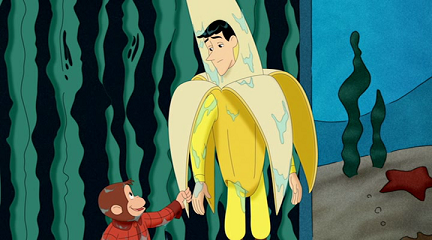 He's playing with fire with that costume.
Since this is made for children who love terrible songs, A Halloween Boo Fest's got three. They're fucking terrible, but one of them does introduce a Halloween tradition that I've never heard of before. It extols the virtues of hiding from your friends and surprising them with a "boo!" while failing to provide an addendum for black parents on how to tell their children never ever to do that, especially in any state with conceal carry. Christ, let's hope George Zimmerman is in custody during Halloween or else he'll kill more black males than Michael Myers did in Halloween: Resurrection. By contrast to the music, the animation is pretty delightful. Part of that may be me refreshed by hand drawn animation in a time where everything's transitioning to garbage CGI and flash animation, but it looks quite pleasant and expressive, especially with the title character. Also helping matters is manimal voice actor Frank Welker as Curious George. The man is basically a non-green Beast Boy, capable of approximately any goddamn animal while still being able to act. His work as a plankton in Ocean Sea Deep: Rescue 1 got him an Annie Award. The whole cast is a Who's Who of voice actors you'll hear if you watch a lot of cartoons/have no life. But Welker is tops. He sounds monkey as fuck (and also is basically Nibbler from Futurama) and knowing he could transition the voice genocidal despots like Megatron or Fred from Scooby-Doo contributed to the tension.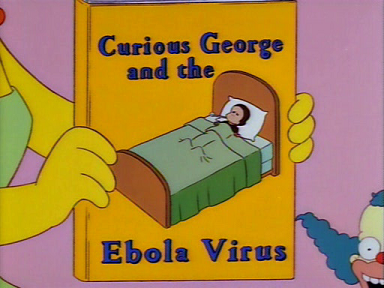 The Dark Knight Returns of the Curious George canon.
Curious George: Portrait of a Cereal Killer is perfect entertainment for anyone over the age of 20. Children should stay far away and for them I recommend George A. Romero (two good movies, coasting the rest of his career)'s Monkey Shines. Available on NetFlix, it's a wonderful, lighthearted tale of a man's friendship with a monkey. There is a cripple in the movie so parents may want to fast forward through those scenes. You won't believe the shenanigans Ella the monkey gets up to, she makes the monkey Ross was fucking on Friends look as broad and uninspired as Benny Hill. This will likely be my final foray into the Curious George Cinematic Universe until 2016's George Goes To Hell, so I'd like to say I enjoyed it much more than Donner Pass or My Babysitter's Seduction, as surprisingly this has less sexual predation.