AKA Super Good Show
Note: I wrote this after only viewing the first episode of Marvel's Jessica Jones.  Like a good nerd I have watched following episodes, but let's go with this…enjoy.
Fans of the Marvel Universe who have been clamoring for more depictions of darkness and grit in their entertainment as far as it appears in television and movies can rest easy.  Marvel's Jessica Jones has debuted on Netflix and it takes what Daredevil started earlier this year a step further into territory that you would never see in the Avengers universe at the cinema.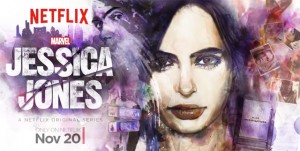 The premiere episode may not yet have been as action packed or as violent as Daredevil's debut but it ramped up the drama and the characterization.  You want grit? You have grit. You want grime? It's about as grimy as Marvel has ever been.  I'm not sure how much further they could go without making it feel like a novelty or a gimmick.  Our main character exists in a show that is filmed almost like a horror movie or some really dark crime drama or a combination of both.  She has a history and she is scarred from it, and she covers it up with alcoholism while also not being afraid to get down with the local bartender.
Speaking of that sexual liaison with a certain other Marvel hero- this is not a television show for children. I will repeat that this is not for kids.  There is a sex scene that is nearly on par with something you would see on HBO.
Krysten Ritter pulls it all off and then some, too. I wasn't all that familiar with the character of Jessica Jones, and Ritter didn't seem like the Marvel kind to me.  Her casting was a little left field, but I already can't imagine anyone else in the role.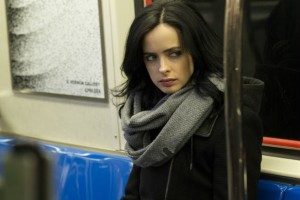 After viewing just the first episode I can tell you I would binge watch the shit out of this if I wasn't so tired from working all day.  About halfway through episode one, I was invested in everything that was going on and interested to see what happened next.
Like many others I'm ecstatic that I'm finally witnessing a female led, comic book inspired television series that dares to treat women as regular human beings instead of playing up their gender or playing down their ability.  Jessica Jones is second fiddle to no one and for those who might upstage her, they too are mostly women.
I want to say it is a great credit to writer Melissa Rosenberg (who also created the series for Marvel) as well as director S.J. Clarkson that this first episode was staged in such a way that the villain Purple Man isn't even really in it but his presence is more than felt and the way in which he devastates lives permeates every frame.  I can only imagine what David Tennant will do when he's actually on screen saying lines and having scenes with other characters.
As I've been going into more episodes Tennant is winning at the role as one might say.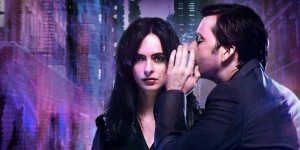 Shout outs need to be made for Carrie Anne Moss of the Matrix trilogy fame for playing the gender bent role of Hogarth, and Mike Colter as Luke Cage, who will be getting his own show in the not too distant future.  Both of the actors bring such a presence to their roles, like Ritter, it's difficult to imagine anyone else portraying them.  Hell, I can't think of too many actors in this show who don't kick ass.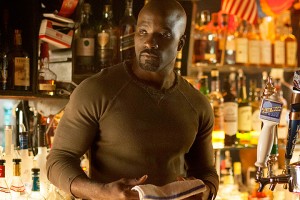 The Marvel Universe as it's taking shape so far on the Netflix has been great, and there's no reason to think it won't continue.  Time will tell as we get season 2 of Daredevil, Luke Cage and others.  But right now they've been able to achieve something broadcast television counterparts like Agents of SHIELD have been unable to do (though, that program seems to always be on an upswing at this point, and Agent Carter is entertaining as hell).  The Netflix siblings are swinging for the fences right from the get go, and have almost zero missteps to mention.
I'm almost getting protective of these Not Ready for Primetime players that some fans might relegate to the 'B' list of characters.  The fact that these characters aren't the big marquee names might be their greatest strength at taking chances the MCU most desperately needs at times.  I wouldn't ever consider the MCU for children because they've dealt with some very adult themes and situations, but it sometimes does not seem to have the edge that the lack of theatrical or mainstream spotlight affords the Netflix universe.  I'd hate for a complete merging of these two corners of the MCU and the result be the Netflix properties suffer some kind of sanitizing.
Til that far off possibility I'll be watching my new girlfriend Jessica Jones as she boozes, bangs, tries to atone, and saves some lives.